Description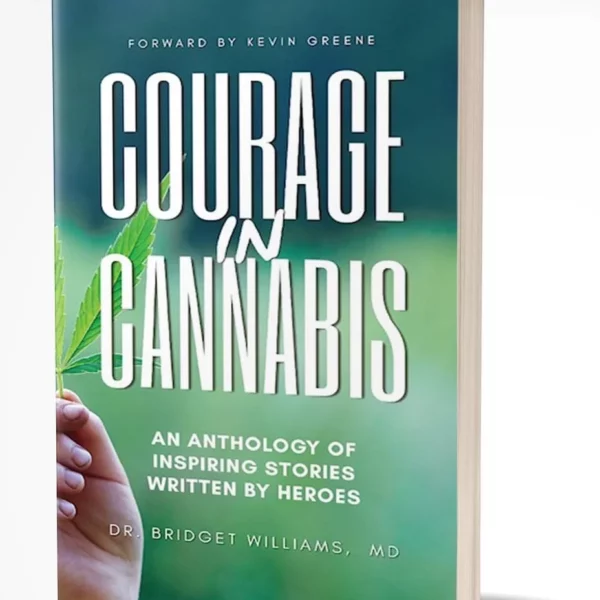 Courage in Cannabis is a collection of eighteen diverse authors that share how cannabis has changed their lives.  Visionary author and physician, Dr. Bridget Williams brought together doctors, lawyers, moms, caregivers, patients and entrepreneurs to share their stories. They share how they each took chances, tested their faith, prepared for the fight and of course displayed courage by partnering with a highly stigmatized plant for wellness, joy and profit. Our foreword author Kevin Greene, COO of Cleveland School of Cannabis, shares not only his own experience in the world of cannabis, but prepares the reader for the journey of the authors by expressing how courageous each of the authors had to be to even share their story.  This book is for anyone curious about the culture and people in the world of cannabis. Whether a patient, parent or the budding entrepreneur this book will inspire you and challenge your view of how a simple plant can have such a huge impact on the world.
Dr. Bridget Williams is an established board-certified family physician, author and the CEO of Green Harvest Health, medical cannabis and integrative clinics located in Ohio. With nearly 20 years of experience in family medicine from The Cleveland Clinic, Dr. Bridget combines her medical background with certifications in life and cannabis coaching to her practice. Dr. Williams is honored to be Top Female Business and Top Minority Business with the Ohio MBE Awards 2021 and a Women in Medicine Top Doctor for 2021.
Kevin Greene is a father, mentor, compassionate community member and successful entrepreneur. He has been focused on the equitable development of community and business his entire professional career and continues to commit to having a social impact through economic growth and advancement of his communities. With ownership of two successful startups-Faces International Marketing and Development, and the Cleveland School of Cannabis- he has years of experience developing successful teams. As the VP for the Cleveland School of Cannabis, his role has been crucial in the growth of the student body, partnership development, and community engagement. Mr. Greene's successes have led the way to a multiple city expansion of CSC and a robust student body serving students between the ages of 18 and 67.
Khadijah Adams
Cannabis Entrepreneur and Investor
"Have a crystal-clear vision of what you want to do and where you want to go in this industry. Have a detailed plan on how you intend on getting there with the understanding that it's a map that can change often. Then finally, don't allow anyone, any situation, or anything to prevent you from reaching your final destination. Take courage when facing obstacles, understanding that they are only meant to test you to see how bad you really want it! "
Dr. Jennifer Anderson MD
Pediatric Cannabis Advocate
"You Can't Stop The Waves, But you Can learn To Surf"
This is your Team Member description. Use this space to write a brief description of this person's role and responsibilities, or add a short bio with a background summary. It's also a great opportunity to highlight how this person is an asset to the team.
Adilah Anwar
Cannabis Committee Chair: NABCRMP and Entrepreneur
"Preparing for the New Normal"
"My chapter will speak to DEI (diversity, equity, inclusion) in the Cannabis industry.  I will talk about how this is impacted in the cannabis industry and how it is something important to talk about and address."
Joe Brennan
CBD Pioneer
"How the Deaths of Two Family Members Led Me on a Journey into the CBD Industry"
"I started to get a sense that this plant has more than just physical healing properties. It also helped emotionally in comforting the families coping with the stress. I knew at this point that I was on my path and had found my calling. Hemp would become the next decade of passion in my life."
Candy Flores
Cannabis Patient and CBD Entrepreneur
"Cannabis Addictions and Desires"
"Cannabis saved my life after my morphine pump was being revised after 5yrs. Went cold turkey after 4 surgeries back to back due to complications. At that point with all the new additional medical issues developed. Was sent home with LOSS of hope…. CANNABIS saved me!"
Joyce Gerber
Canna Mom Podcaster
"Creating My Place in Cannabis"
"My story is my transformation from tennis playing lawyer Mom to cannabis Mom.  Cannabis let me in with purpose and community.  It has healed me from the inside out."
Charlana McKeithen
A Champion and Trailblazer fro BIPOC in Cannabis
"Shine a Light for Change"
"What people may not understand is that cannabis advocates have helped pave the way for the cannabis industry to materialize.  There are now people in this industry making millions of dollars from the plant, while the communities hardest hit by the war on drugs are still incarcerated and struggling to rebuild their lives.  As advocates, we have to make sure that reparations are established and that Black and Latino communities are provided for justly."
Franny Tracy
Hemp Pioneer
"Out of the Bud is How We Bloom"
"Seed to Shelf, Hemp to Health."
Andrea Sallis
Cannabis Entrepreneur and Educator
"Cannabis can be the first option, not the last option."
Mary Jane Borden
Author, Artist, Advocate and Activist
"On Being Mary Jane: 50 Years of an Amazing Little Plant"
"My life as MaryJane, intricately involved with cannabis and advocating for Cannabis on many platforms for many years."
Rebecca Finch
Warrior Mom
"It is such a blessing to witness something so devastating turn into something so special."
Matt Grandel
Cannabis Crusader
"Alcoholism, Faith and Cannabis"
Thank GOD for your Blessings, and Love your body, and Love others too.
Edd-Lainia Etherly Muhammad
CBD Coach and CBD Entrepreneur
"What?!? I Have Cannabis Voice!"
"My chapter covers how I went from  being fearful about my use of cannabis, to being open and confident about telling others what cannabis can do for you.  Awakening, a metamorphosis of who I am now and how cannabis made it possible. Eventually opening my own CBD store."
Broderick Randle
Sickle Cell Warrior
"My chapter will be related to my journey overcoming sickle cell anemia with the use of cannabis.  My sister also is diagnosed with sickle cell and how we have dealt with this diagnosis."
Dorothy Thigpen
Caregiver
"That was the first time I recognized the real value of cannabis as a medicine. That epiphany never strayed far from my consciousness, even when I thought I was using it recreationally for my social anxiety and depression. Cannabis was an incredible and safe medical remedy for a variety of ailments!"
A. J. Warren
Curator of Cannabis
"Freedom Leaves: A Call to Action"
"We need to come together and build up our communities together through educating on cannabis benefits in their entirety."
LOOK FOR MORE BOOKS FROM THE
COURAGE IN CANNABIS BOOK SERIES.
Interested in becoming an author in the next edition? Check out the link on the courageincannabis.com