The Endocannabinoid System
Within the human body is one of science's newest and most exciting discoveries. The ECS (endo-cannabinoid system) has been shown to be the largest neurotransmitter system in the body. It regulates relaxation, eating, sleeping, and even cognitive function. Phytocannabinoids, or plant-based cannabinoids such as CBD can assist the body's health and wellness. In fact, all mammilians produce cannabinoids and have an endocannabinoid system that regulates many natural internal functions. The human body will produce its own natural cannabinoids when exercising, meditating, and omega 3 intake. Endocannabinoids are also found in human breast milk and are vital for proper human development.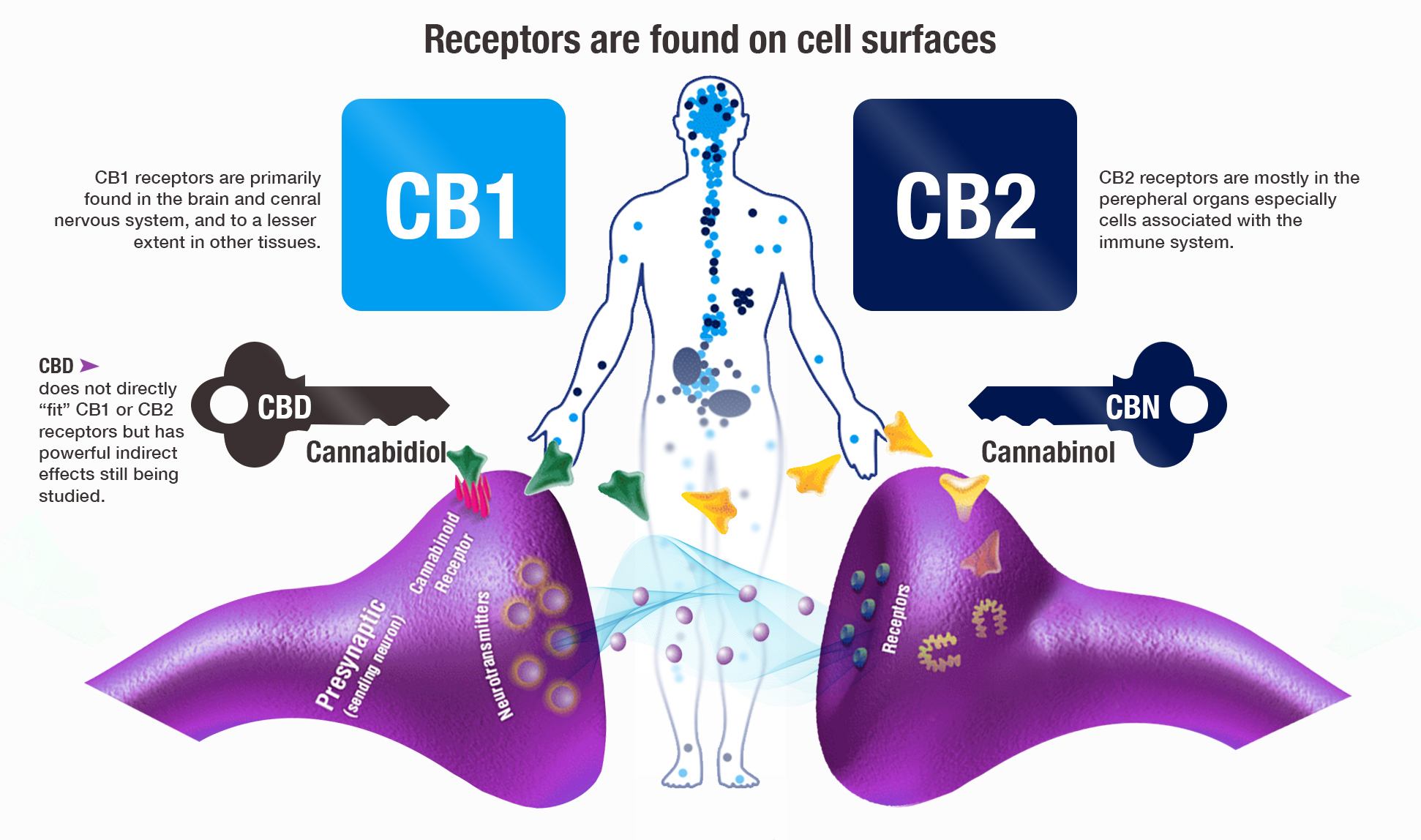 WANT TO LEARN MORE?
We have partnered with the Cleveland School of Cannabis in order to bring the best educational resources to our community.
What Our Customers Think
Our customers are awesome!
"
Anxiety Relief I LOVE this – I was a first timer with CBD oil and I really believe this has helped me in my everyday life. Just a few sprays under your tongue and you seemly feel a calming effect. I love that you don't get that 'stoned' feeling – just an ease of anxiety. And anyone suffering from anxiety knows that even the slightest bit of help can make the biggest difference.
"
"
Started my 88 year old mother on the +CBD soft gels and within a few days all her hip and leg pain was gone. She is mobile again, walking only with a cane for balance. Amazing ! We love it !
"
"
These cbd gummies really help my pain and my sleep. I eat one before bed and i sleep like a baby. They work for my pain as well. I order these online quite often and appreciate the fast shipping!
"
"
CBD infused honey is an awesome product! The Honey is from a local bee farm. Locally honey is great for allergies!
"
"
Works Great! Best isolate CBD I've ever had, I vape it and it works great for my anxiety!
"
"
I was stunned by the difference between sublingual ingestion versus vaping. If you haven't found results with other methods, don't give up just yet. For me, the 150mg strength alone provides plenty of relief. I haven't even mentioned the pleasurable taste. This product is pure quality, through and through. I stand here in awe of Hemplucid Drip!
"
"
If you have trouble with onset anxiety, this vape oil is a godsend. It provides instant relief. I love this stuff!
"
"
This is some of the best vape fluid I have ever found. I love the way it tastes nothing artificial nothing added. What you taste is what you get from their genetics.
"
"
Frankincense and Black Seed Oil with your CBD - I used this product to assist with migraines and general tension. If you're on a budget, this the way to go – S11 lasted me a whole week! It has a slightly spicy flavor from the frankincense – which also known to assist with headaches. I love that this product includes black seed (nigella sativa) oil – another BIG WIN for your health 🙂
"
"
Best cbd crystalline. Takes my pain right away.
"
"
The best of the best CBD. Just got my package, I couldn't be more happy with this product. The taste is better then I expected and relief within minutes. All around great. I'm sold and cant wait to order more.
"
"
Bye bye pain I have 2 bones in my foot that did not heal right after breaking them. This roll helps so much!! I used Icy hot for years, which ia like this. However with icy hot after the " cold feeling" left I was left in pain again. With this I can go hours without it. Super glad I decided to give it a try.
"
"
Pain Miracle! I suffer from headaches consistently. I wake up with them and go to bed with them. This roller I will pay $30 for any day. It takes my headache away within 5-10 minutes!! Has a refreshing smell of menthol and feels great in the skin. It's not oily at all.
"
"
If you have teens suffering from acne, I highly recommend the cbd soaps. Both my son and daughter love the cbd soaps.
"
"
I absolutely love these gummies they work well for my back pain and they help me sleep. Keep up the good work guys!
"
"
A great treat for anxious dogs. These treats really work! We have a hyper mid size dog and these help her calm down, much easier for the travelling we have to do with her. Also our other little anxious dog likes them too! And they love the taste too :)I highly recommend them!
"
"
A MUST BUY FOR SENIOR PETS! I have a 11 year old senior labradoodle, who had recently become easily fatigued, was eating less, had weight loss, a few lumps, and just over all seemed to be deteriorating. I did some research, and decided to purchase these treats, which ended up being the best decision I've made for my ole guy. After 3 days of taking the treats I saw immediate results, it was AMAZING! It was like he was a brand new pup! He was eating, had more energy to play with his younger brother, even had no issues getting from floor to couch. After a month or two the results were even better, he started to gain his weight back, the side lumps had decreased in size, and still he had energy like I had not seen in quit some time. I also decided to try and give an extra treat around July everyday because of his severe anxiety to fireworks, and he was much calmer, he did not pace the house, but simply just lay as if nothing was going on at all! He's been on the treats for several months now, and is just a brand new dog. I highly recommend this product for anyone with a senior dog that is in decline, any dog with anxiety, or weight gain issues!! Thank you for your help!
"
"
my dogs LOVE these treats…. My 12 year old Lab had a blood clot in his neck, it burst and disappeared. The Vet was shocked at how this could happen. He had been on paw-riffic treats for about 6 weeks. He has no signs of the blood clot. My Pomeranian experienced anxiety, she would not sleep at night. Taking the CBD treats has calmed her. I have seen such an improvement in both of dogs. My fur babies are part of my family, I want them to live a good quality life. With paw- riffic, I hope I get spend many more years with them.
"
"
Omar Loves his treats Bought these treats hoping that they would help with some aches and pains of him growing older. They seemed to have done the trick. He now jumps in the back of the car instead of taking it slow. One of the other benefits of these treats he now speak 3 or more languages, he is fluent in German Shepard, French Bulldog and Spanish Spaniel.
"
"
These treats are awesome! I have 2 older Dachshunds and they love these treats. As they are getting older they seem to have achy joints, and inflammation. This was causing them to want to slow down and not be as active as they used to be. These CBD dog treats help alleviate the joint pain and have them acting like they are 2-3 years younger.
"
"
I had horrible wrist pain for months and I ended up getting a cortisone shot which did help quite a bit. The doctor said if the pain didn't go away completely or came back we would have to talk about surgery. The pain came back and I decided to try Theramu instead of going back to the doctor. So far it has been great at controlling the pain! Looks like I won't have to have surgery!
"